5 Benefits of Banana Displays at a Retail Outlet: Marco Company
Posted by web team on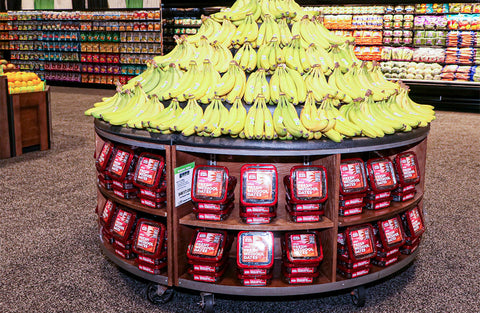 Marketing and advertising are incomplete without visual merchandising. For centuries, setting up products in front of people has been the first form of selling. This is important because a customer only enters a store when he/she finds something useful inside. How would a customer find out about 'your specials' until they are displayed in front of them? Visual merchandising like a banana display for your store will determine whether they will stay in or walk out that door. 
The impact of visual displays on sales is increasing day-by-day. Millions of brands and businesses are now investing in ways to boost their brand visibility. By doing this they are gaining brand loyalty as well as creating a brand authority on the market. No matter how the future of advertising and marketing turns out, merchandising displays is still going to help retailers sell more product. Without it, retailers will lose the art and business of selling products and services. 
With the rise of e-commerce, creating visually appealing displays is becoming more necessary than ever before! The largest retailers confirm that visual merchandising is important. That said, let's look at some of the benefits of banana displays. 
The Benefits of Banana Displays in Retail Stores: 
All About Bananas
When you are a retailer, it becomes very clear that you must continually convey your unique story to customers. This can be done by putting up banners announcing store specials and placing portable banana displays in high traffic areas throughout the store. In the retail industry, you can only stand out when you take effective measures to boost sales. Creating an event about bananas is another way to capture more in-store sales.
Boost Sales
Banana displays are one of the easiest ways to increase store sales. By creating unique displays, you can increase the number of people shopping at your store. If you promise the best customer experience and pricing, customers will want to enter your store and buy product. An increase in customers will ultimately boost sales. 
Adding Value
If the product is in low demand, you can strategically highlight it by using visual components. Using a banana display is one of the ways to do it. You can sell more bananas without lowering prices. No matter what product you use, this is a proven way to market product to your valuable customers. 
Ultra-Experience
There are a plethora of factors that play a role in making the customer's experience memorable. For example, you can change the lights of the store and make it more ambient, you can add music etc. Meanwhile, if you add a banana display, you can use a spotlight or special signage to draw the customer's attention towards it. Leveraging creative sales signs and displays will improve the overall shopping experience. 
Online Ads
Lastly, you can use banana displays in your store and enhance those sales with additional advertising options. Compared to traditional advertising and marketing, it is cheaper to promote your business in the cyber world. Think about free advertising by making Facebook pages, Instagram, and Snapchat etc. 
Now you know the top five benefits of using a banana display as a retailer. By using visual merchandising with a banana display, you can increase sales. Looking for a unique banana display that helps you stand out from the crowd? Get your first banana display from The Marco Company - it's worth it! We are available online. Request a quote today and take your sales to the next level. 
---
Share this post
---
---