THE MARCO COMPANY CAPABILITIES
3209 Marquita Drive, Fort Worth, Texas 76116
Located by our office headquarter, the Plastic Shop is home to all of our clear and plastic production. We manufacture finished plastic products using the latest industry equipment including several sheet plastics vacuuming forming stations, high-pressure plastic injection molding, and CNC capabilities. Built in 1986, this 70,000 square feet facility stores decades of precision molds ready for mass production. If you are looking for a custom plastic project, our in-house engineering and pattern shop team can build custom products for you.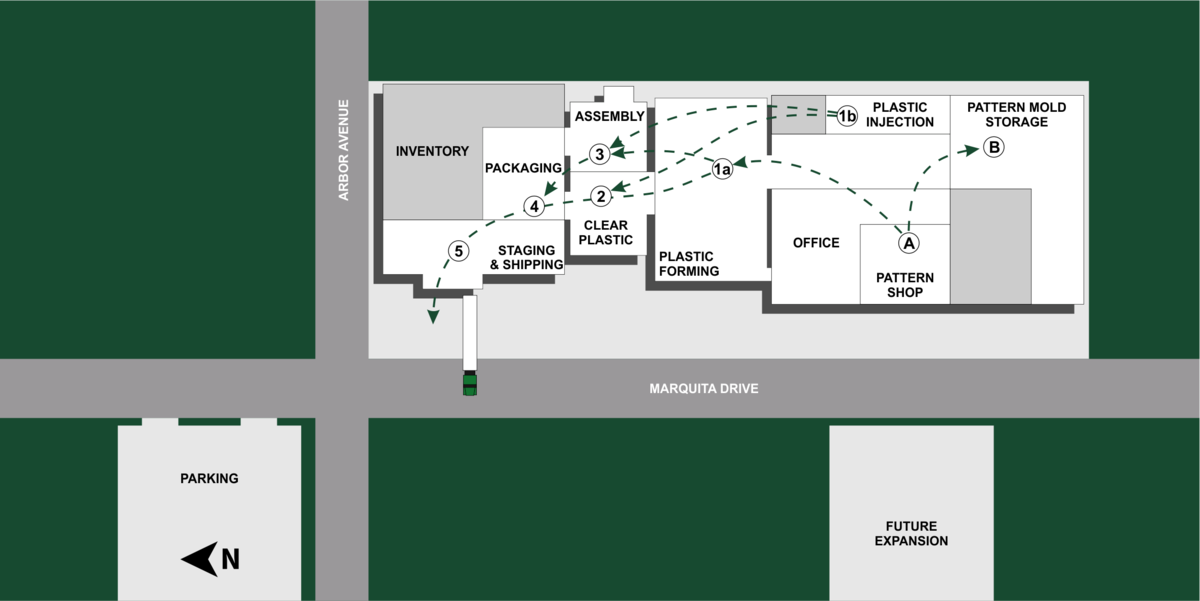 – Receiving
Suppliers deliver ABS sheets, acrylic panels, and plastic pellets.

A. Pattern Shop
Molds for the plastic shop are designed in-house by engineers. Custom molds are made out of hardwood, plywood, aluminum, and polyurethane. All of the wooden molds are built here by skilled workers.

B. Pattern Molds Storage
All molds for the shop are labeled, digitally recorded, and placed into a large temperature-controlled storage when not in use.

1a. Plastic Forming
Several industrial vacuum forming machines are used with molds to create plastic parts such as bins, trays, and liners. Plastic sheets are heated to be malleable and then placed over a mold. Vacuum pumps pull the plastic sheet to contour the mold perfectly. The plastic is allowed to cool to retain the shape, removed from the mold, and any excess plastic is trimmed off.


1b. Plastic Injection
This is a large machine that is designed to create more complex shaped plastic parts. ABS plastic pellets are melted down and forced into a two-piece, water-cooled aluminum mold. Once the plastic quick cools, the two-halfs of the mold separate and the part drops. This machine is designed to produce hundreds of the same part in a single run.

2. Clear Plastic
Clear bins and risers are built here. Some parts are received from both plastic injection and forming. Flat plastic and acrylic sheets are cut into the specified shape by workers with table saws and routers.

3. Assembly
Assembly of larger plastic products and grouping of varied components are performed here.

4. Packaging
After inspection, plastic products are boxed, wrapped in protective stretch film, and strapped to pallets for shipping.

5. Staging & Shipping
The packages are staged to be loaded onto trucks. Shipping labels are created and scheduled for delivery.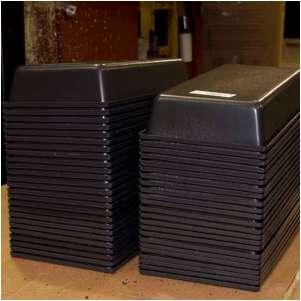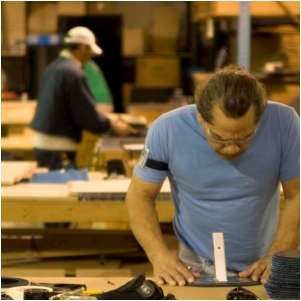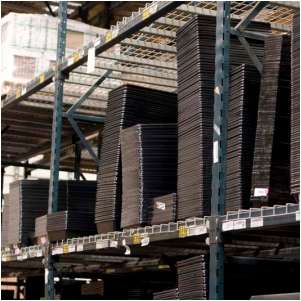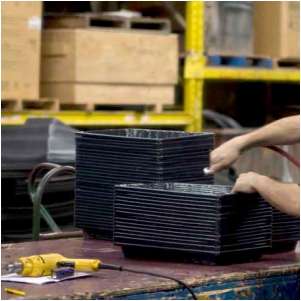 7408 Camp Bowie W Blvd, Fort Worth, Texas 76116
Two blocks from our office headquarter is the Metal Shop that handles all metalwork and final assembly. This shop opened in 1996 and expanded to 90,000 square feet. The series of buildings house large metal laser cutting machines, several hydraulic breaks and press, precision wire bending equipment and welding stations. Our extensive powder coat inventory and large powder coating line allow us to provide a multitude of durable colors and finishes to all our metal products.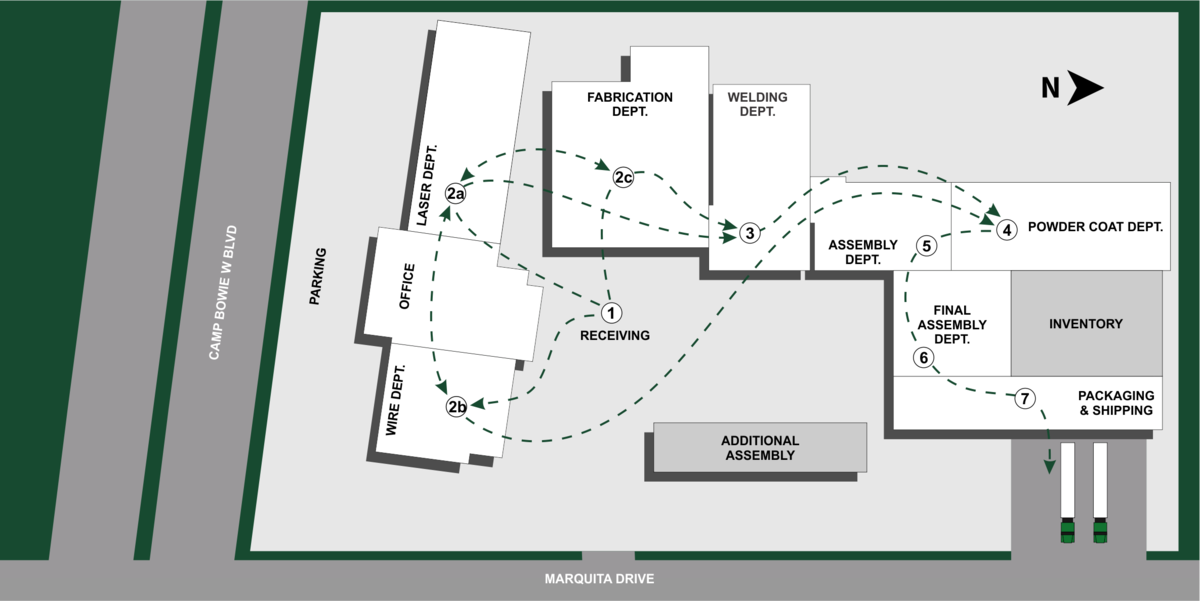 1. Receiving
Suppliers deliver sheet metal and tubing to the metal shop.

2a. Laser Dept.
Several large high-precision laser machines are used to cut parts out of sheet metal and steel plates. A shearing machine is also used to make simpler straight cuts on sheet steel.

2b. Wire Dept.
The wire shop creates metal baskets and racks from large rolls of metal wire. Some racks use parts from laser shop such as brackets. The shop also builds jigs and uses them to manufacture hundreds of identical metal wire parts.

2c. Fabrication Dept.
The fabrication shop uses large hydraulic presses to shape, bend, and cut sheet metal and tube steel. Metal parts from the laser shop are sent here to be bent and shaped. Cold saws, tube benders, and rollers are additional equipment used in fabrication.
3. Welding Dept.
Skilled welders build brackets, weld frames and custom parts together. Most of the fixtures come into shape here.

4. Powder Coat Dept.
Bare metal frames and parts are hung onto a long conveyor line. The parts are sent through a heated cleaning bay then a fine color powder is sprayed evenly onto the parts. The powder is baked into a hard durable finish as it passes through the oven.

5. Assembly Dept.
Multiple components are assembled here to built the final fixture. Moldings, locks, casters, and panels are installed here.

6. Final Assembly Dept.
Final assembly is performed here. If specified, several fixtures are bundled together to build a set.

7. Packaging
After inspection, fixtures are strapped onto pallets, wrapped in protective foam sheets, boxed, and packaged for shipping.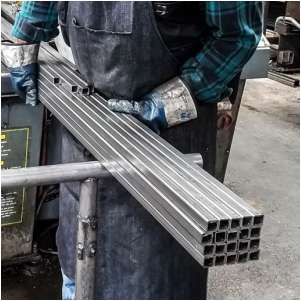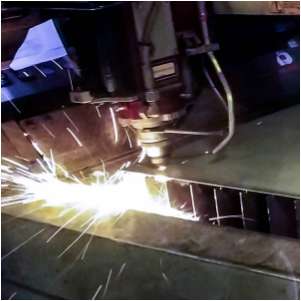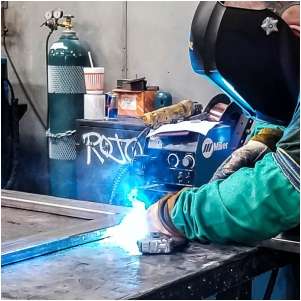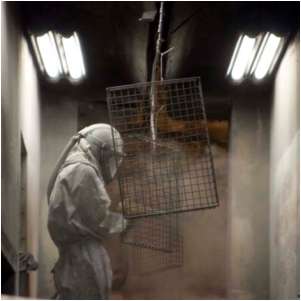 9595 Camp Bowie W Blvd, Fort Worth, Texas 76116
To keep up with customer demand, the Wood Shop was built in 1998 with over 60,000 square feet of factory space. This facility runs both a hardwood and plywood line to streamline fabrication. All lumber that arrive to our Wood Shop passed through a computer controlled rip saw to square up all boards and cut out defects. Our fixtures are built and assembled by skilled craftsmen with the latest industry tools and equipment. A continuous staining line with three ovens allows nonstop production and allows us to offer multiple finishes.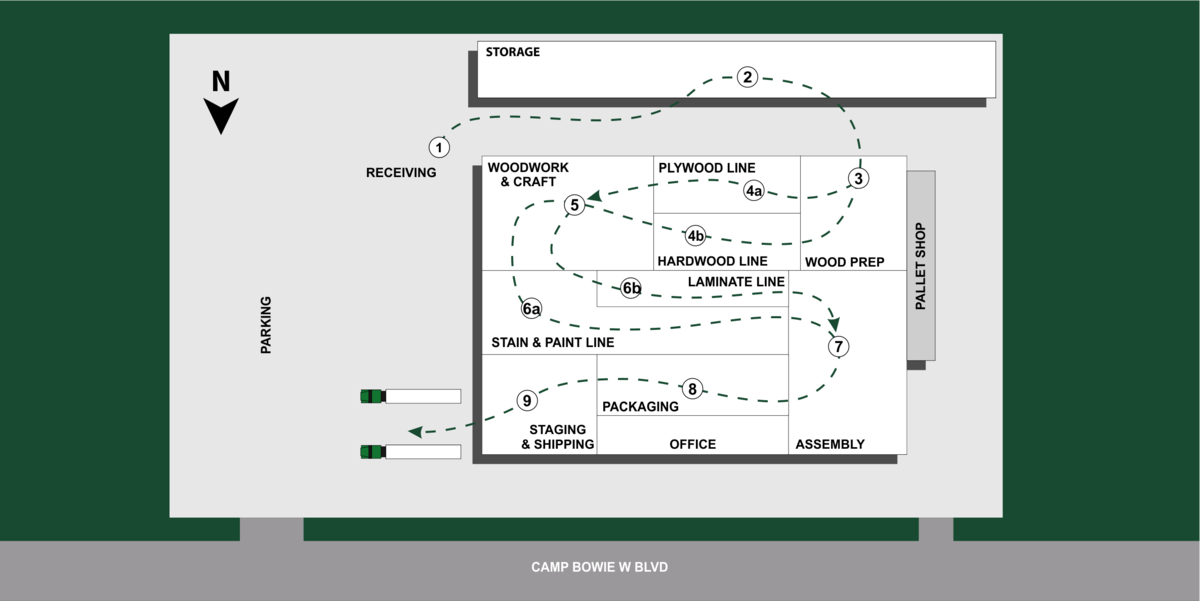 1. Receiving
The wood shop receives lumber and plywood from various suppliers.

2. Storage
Lumber is categorized by wood type, size and grade quality. Plywood, MDF, melamine, and hardwood are placed into storage to prevent damage from the weather.

3. Wood Prep
Defects such as holes and knots in the wood are cut out by a computer-controlled saw to obtain the most yield per board.

4a. Plywood Line
Plywood, melamine, and MDF are cut down into their required size by a computerized table saw. A CNC machine works each panel by refining the shape and adding slots and holes. A fast edge banding machine finishes each board as needed.

4b. Hardwood Line
Selected hardwoods are cut to length, milled into shape, and glued into boards if specified.


5. Woodwork & Craft
Workers build parts and fixtures with prepared wood. Turned table legs, detailed moldings, and custom parts are handcrafted.

6a. Stain & Paint Line
Wood parts and fixtures are prepped for staining. A sealer is first sprayed on to protect the wood. Fixtures can be finished with stain colors or clear coated.

6b. Laminate Line
Certain parts and fixtures are specified with laminate finishes. Laminate and edge banding are done here.

7. Assembly
Final assembly is performed here. Parts from other Marco shops are delivered such as metal trims, frames, and glass doors.

8. Packaging
After inspection, fixtures are strapped onto pallets, wrapped in protective foam sheets, boxed, and packaged for shipping.

9. Staging & Shipping
The fixtures are staged to be loaded onto trucks and containers. Shipping labels are created and scheduled for delivery.