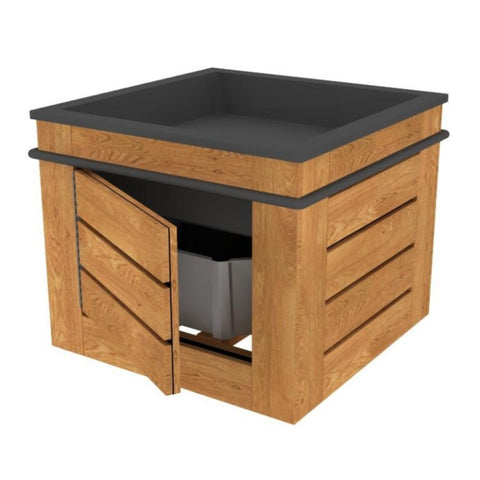 Orchard Bin - OBL-CLS O BKICE
Item Description:
Orchard Bin / Produce Display Bin
Add versatility to fresh cut fruit & melon displays with Ice table orchard bins. Bins are also perfect for merchandising prepackaged items that do not require icing. Features include a 6" deep non-insulated liner, a drain system that includes a storage tank, hose & attached cut-off valve for draining, & a small door for drain hose accessories. Recessed casters provide mobility.
DIM:42.5" X 50.5" X 32"
Add versatility to fresh fruit juice and melon displays
Includes a drain system with a storage tank, hose and attached cut-off valve for draining, as well as a small door for drain hose accessories
Recessed casters provide mobility
High quality design for upscale image
Orchard bins are built with heavy-duty oak wood for increased durability
Side hinges open for convenient access to product
Standard ABS plastic liner is 6" deep:

DWG#10723
Product tag(s): Orchard Bins, All Orchard Bins, Classic Oak
---
We Also Recommend